Daily Doubles - Celebrity Impersonators: Celebrity Impersonators (Hardcover)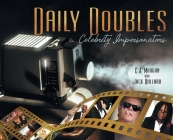 Description
---
We are obsessed with celebrities. Our culture is shaped by celebrities and celebrities are shaped by our culture. Who hasn't wondered what it would be like to be rich and famous? What if you were bombarded by people wanting your autograph or photo? An adoring public clamors to get up close and personal with their favorites or at least a reasonable facsimile. As the top tier of bona fide celebrities becomes more and more inaccessible, expensive and exclusive, sometimes the 'next best thing' is enough. It is often the celebrity impersonator or tribute artist who works hardest to keep alive the music or the memories of a beloved legend, past or present. This hard-cover coffee table-type book contains bios and/or short interviews of more than 50 talented performers who work as celebrity impersonators or tribute artists. A highly specialized subset of show business, it isn't for everyone and has its own unique challenges, but the full-color photos offer proof that we all have doppelgangers. It's just that these are the doppelgangers of the stars
Written by husband-wife team Jack Bullard and C.J. Morgan, insiders within the business and award-winning celebrity impersonators themselves. Jack works worldwide as a photo double and impersonator for film icon Jack Nicholson. C.J. Morgan is a Dolly Parton Tribute Artist. Together, they offer a brief glimpse into the lives and work of their many friends in the industry.
Excerpt; These entertainers often put in long hours, staying out on the road, paying homage to the likes of Johnny Cash, Cher and, of course, Elvis, in nightly shows. Some sing. Some don't. It is not unusual for any of them to spend thousands of dollars on authentically detailed costumes, wigs, props and instruments in order to accurately portray their superstar counterparts. The true professional does not simply don a cheap wig, a Halloween costume and pronounce him or herself a tribute artist or impersonator.
In many ways, being a tribute artist, impersonator or lookalike can be far more challenging than a scripted performance with a director at the helm. In this line of work, improvisational skills are a necessity - and not everyone has them. You must BE the character and be 'in character, ' sometimes for hours, depending on the situation. You must think and react the way the character would react, on the spot.
Who are these people seemingly leading a double life? Are they entertainers in their own right? Are they fans? Have they met their celebrity counterparts? They are certainly often the recipient of scrutiny and many curious stares from a public who constantly compares them to the original.